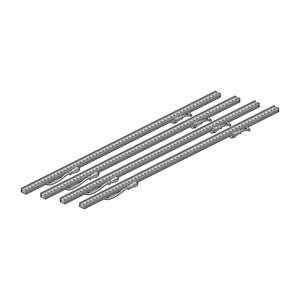 Please contact us first for Pure White bars orders, thank you.

Pack of four 1-meter bars (RGB or PURE WHITE) of LED by garageCube, a unique plug-and-play solution for stage design, visual art and live performance.
Since its successful Kickstarter launch, LED by garageCube remains a user-friendly and adaptable LED system you can assemble with sturdy, yet lightweight aluminum supports.
It's simple to set up and designed to be as accessible as possible.
Our LEDs are indeed both a perfect introduction to the world of DMX lighting and an ideal choice for upgradeable setups: you can add to your existing arsenal at any time bars in other formats, in RGB or Pure White.
Be creative by downloading free 3D print files for geometric structures too.
LED by garageCube were also designed in parallel with the development of the MadLight tool in MadMapper.
Users can therefore enjoy a powerful software with features designed for these garageCube bars.
Although you can use any software supporting the DMX protocol, without a doubt MadMapper will allow you to have a blast on your projects, no matter how small or huge they are.

MadMapper also allows you to export your DMX sequences to a MiniMad device and thus run your installation or your project without computer.


Feel free to contact us if you'd like to discuss about your project or if you need any technical assistance, our LED experts and MadMapper's developers will be happy to help.
More information :
The Kickstarter project
garageCube website
MadMapper website
LED by garageCube PDF manuals

LED by garageCube FAQ
Technical specifications :
Auto addressable
Single cable to carrying both power and data
IP 60 : protected against total dust infiltration.
Please note that the bars are not protected against water infiltration and therefore need to be protected if used outdoors.
Material: aluminum
Dimensions : 2.5 x 1.5 x 100 cm (approx. 1 x 0.6 x 39.4 inches)
Weight: 400g
Protocol: DMX
Voltage: 12V
Pitch: 16.5mm
RGB version :
60 RGB LED 5050
DMX: 60 addresses, LED controllable in groups of three

Lumens: 20.4lm
Maximum Power: 15.3W
PURE WHITE version :
60 Pure White LED 3528
DMX: 60 addresses, each LED independently controllable

Lumens: 26.7lm
Maximum Power : 12W